Head to Head with Nikalyte Ltd
November 19th 2019
Nikalyte Ltd was founded to provide an easy to operate, bench-top nanoparticle deposition product, to address an increasingly routine laboratory-based need. Recognised expert in nanotechnology, Professor Alistair Kean established Nikalyte with colleagues of the former Mantis Deposition Ltd; vacuum systems expert of 30 years, Dave Mason, and application development and nanoparticle deposition expert of 20 years, Srinu Saranu.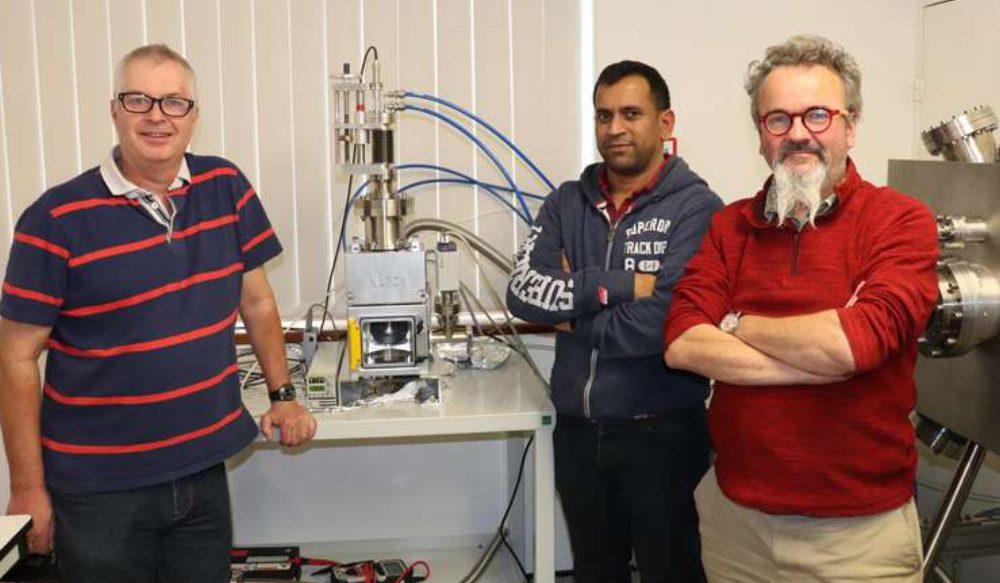 Whilst not the only market, biotech has a rapidly growing need for functionalised surfaces, where the sophistication and purity provided by a vacuum deposition technique, outstrips that of complexity and potential contamination of chemical techniques. Presently, scientists access nanoparticles via solvent-based chemical sources, which have inherent & unattractive properties such as nanoparticle agglomeration and unintended impurity incorporation. We see biotech as a large potential market, however, there is interest in many other areas such as photonics, environmental, clean energy, chemical engineering, etc.
The key skills in the company are focused on bench-top system development. A breadboard system is now running, proving the concept and informing design choices for the prototype. We aim to build and demonstrate 3 bench-top prototypes.  Introduction of these prototypes to potential customers and use of selected beta sites for extended testing will complete the input for the launch product design.
The Nikalyte bench-top system development will be available to a wide audience. We will give experts in biotechnology access to a technique where previously only physicists would tread. Our product will have a touchscreen-based computer control system incorporated into the unit, designed specifically to make the testing and operation of the unit as simple and reliable as possible so that anyone can produce high-quality nanoparticle coated samples quickly and easily with the minimum of training.
We are planning to exhibit at two scientific conferences and exhibitions in early 2020 in Europe; one will be life science-focused and the other the European Materials Research Society meeting in Strasbourg in May 2020. Targeted institutions will be high tech SMEs, corporate research labs, publicly funded research institutes and universities. In addition, we already have facilities to deposit nanoparticles onto customer samples, a service which is a useful tool both for process development and future sales.
More Case Studies
June 3rd 2021
Head to Head with HPL Ltd
Wendy Tindsley, Innovation Director, sat down with Howard Lancaster, from HPL Insurance Services to talk about the changes that businesses are having to make post-pandemic and some of the new, hidden risks they are facing. I also found out a bit more about him and his business
September 13th 2020
Head to Head with DJS Antibodies
1.How did you start your company?  We realised that novel immunological insights into the induction and development of strong antibody responses could be used to generate leads for therapeutic antibody development. With support from Johnson and Johnson Innovation, we started DJS Antibodies and set about testing our novel platform for […]
July 22nd 2020
Our Innovation Director Wendy Tindsley
So, what does an Innovation Director actually do? Firstly, Wendy offers businesses 1-to-1 support and coaching to set goals and overcome challenges, like fundraising, finding new markets, and scaling-up. Networked with many stakeholders and partners across Oxfordshire, she can also make connections – whether it's with other businesses, clients or […]