OxLEP – Oxfordshire Women in Business The Story Museum
January 31 @ 9:15 am

-

12:30 pm
Event Navigation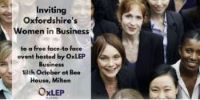 The UK is often described as the start-up capital of Europe, but sadly not when it comes to women. Whilst the last decade has seen a sharp increase in female self-employment, the number of women starting, and scaling businesses remains much lower than that of men (only 1 in 3 UK entrepreneurs is female). So, what are the issues? Well, they can vary depending on the stage or intention of the business, but repeatedly we hear access to funding and networks, primary care responsibilities, sectors and skills.
Over the past months, OxLEP Business has been busy building 'women in business' networks and encouraging collaboration amongst like-minded female business leaders via its eScalate 'Women in Business' Network and Support sessions as well as via its wider Growth Hub support offering.
To celebrate our amazing local female talent, wonderful business relationships forged to date, and the evident appetite for female empowerment across the region, OxLEP is inviting existing and new female clients to come together for a morning of networking and insightful conversation.
Although networking and making valuable connections is a priority, there will also be the opportunity to hear from guest speakers on subjects affecting female entrepreneurship, as well as an overview of relevant support available across the region.
Who is this event for?
This long awaited 'in-person' event is for female business founders, leaders, and managers of SMEs in and around the Oxfordshire area. Perhaps you're an alumni of eScalate's Women in Business Network and Support, or maybe you have received support from the wider OxLEP Growth Hub. However you have engaged with us, this event provides the perfect opportunity to reconnect with peers, meet new women entrepreneurs, and listen to inspiring guest speakers, all in a lively and friendly environment.
NB: Whilst priority will be given to existing OxLEP clients; this event is also open to women business leaders that may not yet have sought support from OxLEP.
Agenda
09.15 – 09.30 – Registration
09.30 – 10.00 – Coffee, pastries and networking
10.00 – 10.10 – Welcome from OxLEP Business
10.10 – 10.35 – Guest speaker
10.35 – 10.55 – Local business climate and available support
11.55 – 11.20 – Guest speaker
11.20 – 12.30 – Coffee and networking
How to attend
Places are limited, with no more than one person from any single company. Companies can be at any stage of growth but must be incorporated i.e. registered with Companies House.
Please register your interest for this event and the eScalate team will contact you with some initial checks to ensure your suitability for the event.
NB: Should all of the places be taken when you come to book, simply email the team at escalate@oxfordshirelep.com and they will prioritise you for any future event.
For more information about the eScalate programme, visit: www.oxfordshirelep.com/escalate