Biotech growth fuelled by Heyford Park Innovation Centre
January 11th 2022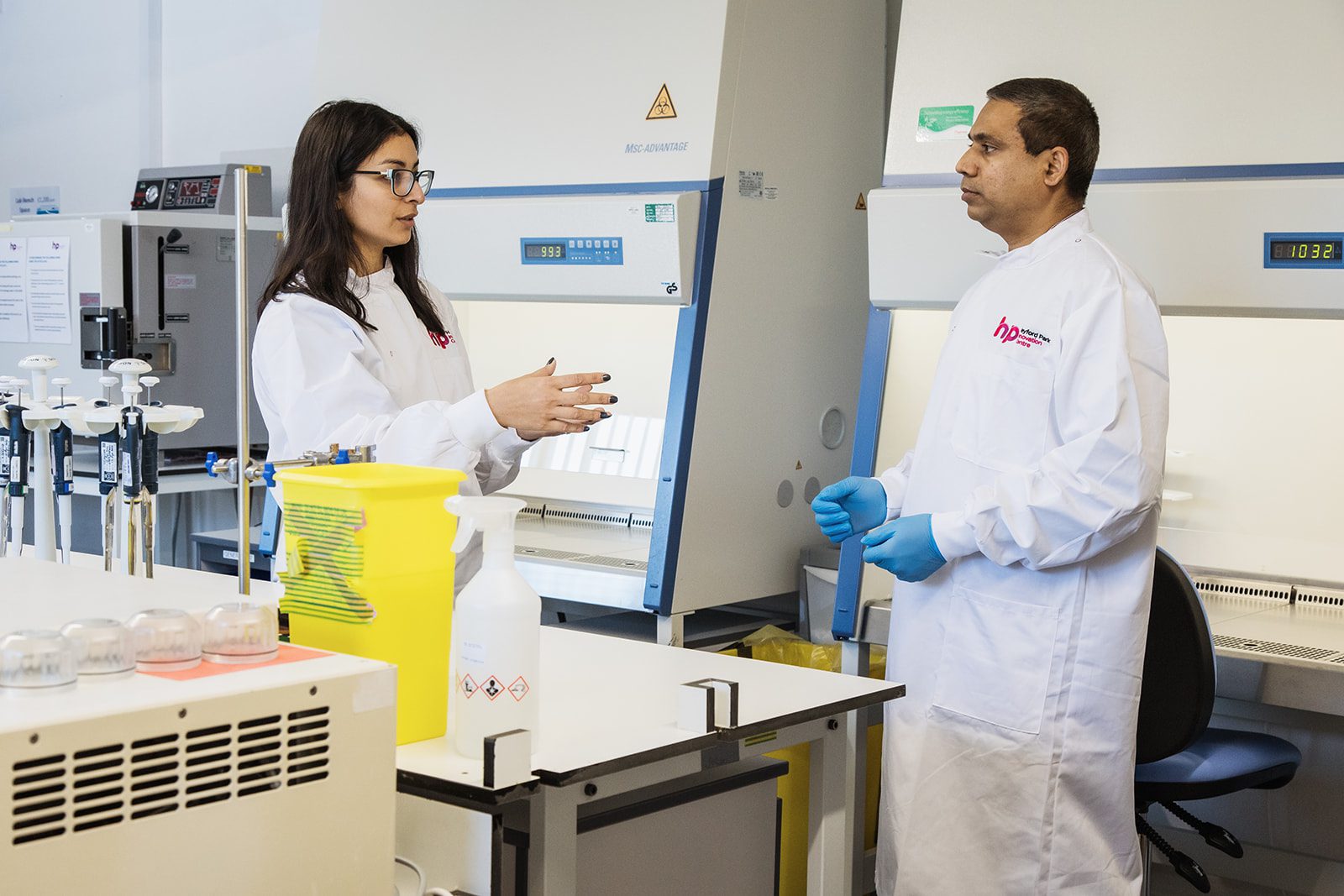 A biotech start-up founded in the middle of the pandemic by three neuroscientists is expanding at Heyford Park Innovation Centre thanks to their world-leading expertise and access to shared laboratory space.
Oxford StemTech follows in the footsteps of major biotechs to have benefited from the financial savings and flexibility afforded by the Innovation Centre's unique offering to bench share fully equipped laboratory space, eliminating the need to invest over £100,000 in laboratory start-up fees.
Graduates from Heyford Park Innovation Centre that have already made a significant contribution to the Oxfordshire science bubble include: Native Antigen Company acquired in 2020 for £18million, PsiOxus valued at £109M in January 2021, Absolute Antibody acquired in late 2020 and Oxford Genetics, rebranded Oxgene and acquired in 2021.
Oxford StemTech first moved to the Innovation Centre in September 2020, when the centre was the only facility in Oxfordshire that could offer shared lab space that was also COVID secure. The company was founded by Oxford University researchers, who are a world leading research group in stem cell based disease models and drug discovery, and has developed a novel method that reduces the cost and increases the scale of stem cell reprogramming. This opens new and exciting opportunities for using stem cells in drug discovery.
Satyan Chintawar, Chief Operating Officer and Co-founder of Oxford StemTech, said: "Heyford Park Innovation Centre has successfully facilitated our start-up and will now support our anticipated growth with independent labs and an office (totalling 1,000 sq. ft.) as we progress towards offering genome engineering services and the distribution of premade iPSC lines."
"The pandemic has been a challenging time to start-up a company that requires access to patient skin or blood samples to produce stem cells that take two months to culture. However, we are now being approached by big pharma as well as academia and envisage more than doubling in size over the next year as we actively recruit cell culture scientists."
The growth of Oxford StemTech comes hot on the heels of DJS Antibodies, a company that started-up at Heyford Park Innovation Centre and recently expanded within the Oxford Innovation network to a brand new, state-of-the-art lab at the Wood Centre for Innovation.
DJS is now funded by a world-class syndicate of investors and has a team of 11 people developing new therapeutics to treat the world's most critical inflammatory diseases, a class of disease that accounts for more than 50 per cent of deaths worldwide. However in the company's early days, when funding was limited, the two founders used their bench at the Heyford Park Innovation Centre in shifts, with one using the bench in the daytime and the other using it in the evening.
Joe Illingworth, Chief Scientific Officer and Co-founder, said:
"DJS was based at Heyford Park Innovation Centre for five years and if it wasn't for the centre, the company would not exist.  The cost of setting-up a lab is prohibitive for most start-ups, and there are very few places that offer shared lab space in Oxfordshire and across the UK. The Oxford Innovation team should feel immensely proud of the unique service they provide, which is also supported by a collaborative and growing community of like-minded people."
Heyford Park Innovation Centre is a fully equipped 3,000 sq. ft. managed laboratory and office facility that includes Containment Level 2 laboratories, a combined shared lab, a fully equipped cell-culture and microbiology lab along with use of a range of lab equipment and general consumables.
Trudy Franklin-Slattery, Centre Manager, Heyford Park Innovation Centre, said: "We have an established and experienced support team in place that can help with everything from office admin through to raising funds and we also employ a laboratory assistant with a research background to provide high-calibre support to scientists.
"The team is very proud of the companies we have supported over the years and we look forward to helping Oxford StemTech and DJS through our network of centres and welcoming more science and technology start-ups over the coming year."
More
September 27th 2022
WIN! Enter today to get your biotech idea off to a flying start
Are you an innovative start-up (less than 12 months old) with a business idea that is beneficial to the environment and/or human health?  
June 16th 2022
Heyford Park goes viral
To celebrate International Women's Day, we wanted to put the spotlight on our Innovation Director Wendy Tindsley. With a wealth of experience in business development and a passion for technology, Wendy supports, inspires and empowers businesses in our centres to reach their full potential.
July 28th 2020
Oxfordshire Bioscience Network
We are delighted to announce that we are Umbrella members of Oxfordshire Bioscience Network.