Understanding Your B2B Customers – and how they have changed
July 13 @ 3:00 pm

-

5:00 pm

Free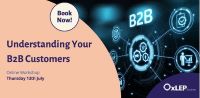 Are you struggling to connect with your B2B customers in today's rapidly evolving market? Do you want to stay ahead of the competition and understand how your customers have changed? Look no further! Introducing our exclusive workshop: "Understanding Your B2B Customers – and how they have changed."
In today's dynamic business landscape, it's crucial to adapt and understand the shifting needs and preferences of your B2B customers. Our workshop is designed to equip you with the knowledge and strategies needed to gain a deep understanding of your customers and unlock new growth opportunities. We'll delve into the latest trends and insights, enabling you to stay one step ahead in meeting your customers' evolving expectations.
During this engaging workshop, you'll gain invaluable insights into the changing dynamics of the B2B customer journey. Our expert facilitator will guide you through an interactive session with real-world case studies, and practical exercises to help you uncover the key factors driving customer behaviour in the current marketplace. You'll discover effective techniques for gathering customer data, analysing it, and translating it into actionable strategies that drive business growth.
By attending this workshop, you'll gain a competitive edge in the B2B landscape. You'll learn how to identify the changing needs and pain points of your customers, enabling you to tailor your products, services, and marketing efforts to meet their expectations. Armed with this knowledge, you'll be able to build stronger customer relationships, drive customer loyalty, and ultimately boost your bottom line.
Don't miss out on this opportunity to transform your approach to B2B customer engagement! Act now and be prepared to thrive in the evolving world of B2B customer relationships.
Your speaker
Su Copeland (Priddey Marketing Ltd)
Su Copeland has over 30 years sales and marketing experience; and works with business leaders looking to generate the right kind of opportunities and systems for growth.
She has wide sector experience with a specialism in working with technology, science and engineering organisations. Her results-based focus comes through progressing from junior roles, to managing multi-million accounts and then moving to founder roles in a number of start-ups. As MD of a local B2B telemarketing agency, she and her team delivered successful projects for clients such as Microsoft, Fujitsu and Novartis. As CEO of Priddey Marketing she works with MDs and CEO to help them take control of their marketing and deliver the right results.
Within the Oxfordshire business eco-system, Su is a sounding board to a number of organisations including an adviser on the OxLEP Business Sub-Group and founder of The STEM Advisers Hub.