Exit Right 2023: Buying a company? What is the purchaser looking for?
July 6 @ 5:30 pm

-

6:30 pm

Free
Event Navigation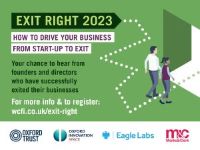 In order to prepare for exit, it is important to create a business that purchasers are excited to buy. So, what exactly is a purchaser looking for and what can you do to increase your chances of success? You will hear from Marcus Exall, a serial entrepreneur, investor, and trusted advisor to tech and agency founders; Andy Maher, an experienced M&A leader with a global background in media and marketing; and David Peddy, a seasoned business advisor with expertise in sales, marketing, and medical devices.
Speaking at the event:
Marcus Exall, Partner, Endeavour
Marcus is a serial entrepreneur, investor and board advisor. He was part of the early wave of digital pioneers after a career in marketing in both London and Tokyo. He built a successful digital agency, exiting to IPG in 2011. Since his first exit, he has been involved in building many successful tech businesses, either as an investor, founder or operator. Businesses in which he has been directly involved have scaled to hundreds of employees and over $1 billion in venture funding. He is a trusted adviser and mentor to technology and agency founders across the UK and Europe.
He is a long-term supporter and trustee of the charity Project Hello World which aims to bridge the digital divide by connecting hard-to-reach communities to online education and WIFI connectivity.
Andy Maher, Managing Partner, Endeavour
Andy leads the M&A practice at Endeavour. He is a former Omnicom COO for Asia Pacific, based in Tokyo and was instrumental in the rapid expansion of the region and in the enhancement of the region's strategy, professionalism and profitability. In addition to 4 years in Asia, Andy spent 5 years in senior financial leadership roles within Omnicom across the UK and US.
Aside from other international corporate finance roles, Andy has founded, run and exited three stand-alone businesses across various sectors in London and Tokyo. With over 25 years' experience in the media and marketing industry, working and living in four continents, Andy is well positioned to provide effective and culturally nuanced strategic advice to his clients.
Andy started his career as an accountant in Australia; his first international role was in investment banking with Salomon Brothers, (London) now known as Citibank. He graduated from Griffith University, in Brisbane, Australia.
David Peddy, Managing Director, SIGH Ltd
After a corporate career in sales and marketing at AC Nielsen, MÖLNLYCKE and Meadox, David worked with medical device businesses such as Surgicraft, AMBA Medical and Zeppelin. He is an experienced businessman with extensive knowledge of marketing, promotion, pricing, corporate lawyers and business acquisition. David is now a business advisor and helps with growth plans as well as assisting and mentoring in their sale process.